I am guilty of a habit many readers fall prey to: the sameness rut. I get hooked on a particular genre or author and don't read anything else. In my case, it's romances Nintey-five percent of what I read has romance as the main focus and the other five percent has some romantic element added.
I try to think of myself as opened minded in my reading but the reality of course is the opposite. I realized I am just as prejudiced against non-romantic books as others are towards romances. Which makes me a little upset, to be honest. How many books have I overlooked because they weren't considered romantic? What books have I missed because I thought I was to good for them?
One of my New Year's resolutions was to step out of my comfort zone and explore different books. (I know, why must I visit the darkside?!) Well, even Luke Skywalker learned something about himself when he was tempted by the Emperor. In doing this, I hope to grow and develop as a person...or make myself even crazier. :) Either way, I'm sure to have fun.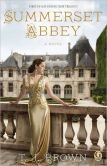 For this month's out of the box book, I chose
Summerset Abbey.
The book is historical fiction, which I do enjoy but never finish because there never seems to be enough BOW CHICKA BOW WOW. I do, however, enjoy Downton Abbey and this is set during the same time period. It is the story of two sisters and their friend and the difficulties each faces when they are forced to move to Summerset Abbey in England. Set just before World War I, it highlights the struggle of a society on the cusp of war and the expectations of women during a period when they had few rights.
I'll report at the end of the month my success (or failure) in finishing this book.